History of

Behind the Scenes Tap house
Our "behind the scenes" movie theme stems from Goldberg Brothers, the owner of our building, the Reel Factory. An 150 year old Colorado company Goldberg was the original inventor and supplier of movie reels for Hollywood during its Golden Age. Alive and well Goldberg Brothers still operates right next to us, making their signature movie reels for Hollywood. Please feel free to ask any of our staff for more information on their Hollywood History. 
Museum and manufacturing tours of Goldberg Brothers are available upon request.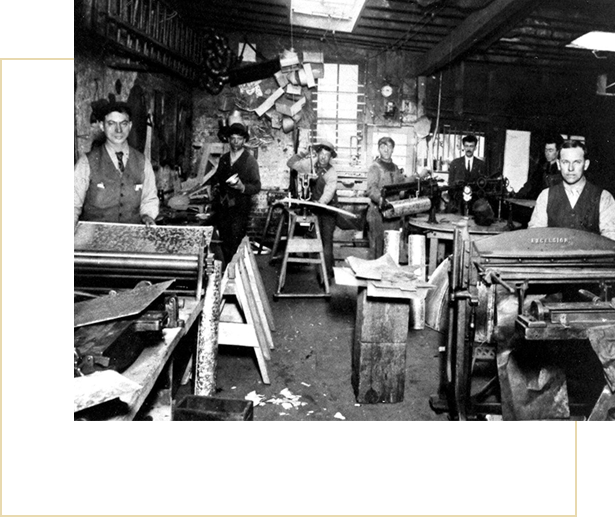 Behind the Scenes, is BEHIND the building!
Our location allows us the best views of the Rocky Mountain Foothills that you can enjoy from our 2 tier patio!
When you get to the Reel Factory building remember:
How to Use

our Self Serve Tap System
We know coming to see us for the first time can be intimidating, we get it, but do not worry we will walk you through every step, and once you know, you know!
Step 1

at our Concession Stand!
You cannot do much at Behind the Scenes without first checking in, so make the concession stand your first stop!
A Crew Member Will Get You Checked In!
If it is your first time, please let our staff know on check-in, so they can guide you through the process. 
Get Your

Wristband or Use Our App
Option 1: We create your tab
To do this we will need a valid ID and a CARD to put on file. Then a crew member will issue you a wristband that has been assigned to you.
Option 2: Download the "Selfpour" app.
You can do this before you come in or when you are checking in.  You will create an account, add a card, and put in your birth date.  Our crew will then scan a QR code on your phone and it is now activated to start pouring beers.
Don't be overwhelmed by our wall, we know it's a lot! The wall is organized by Wine, Cocktails, and Beer type so you can jump to your preferred section. Every individual tablet will have the name of the beer, the brewery, a brief description, ABV, IBU, and its price per ounce. 
When you have selected the drink, you would like to try, take your wristband, tap the logo on the band, to the wooden logo engraved on the tap and start your pour. You are in control of the pour; shut the tap handle whenever you are done. You will only be charged for the ounces poured, whether it was a 2oz taster or a full pint! 
If you are using the app, select the scanner logo in the bottom center of the screen and use your phone to scan the screen and activate the pour. 
Enjoy trying our different, unique drinks on tap and we hope you can find your new favorite!
Done? We hope you loved the self-serve system! Before you leave check in with our crew at the concession stand and give us your wristband back. We will scan it and tell you how much you did on the wall and how much will be charged to your card.
Check out on the Mobile app
If you are using our app simply hit pay now!
"Behind the Scenes Tap house is a Ken Caryl neighborhood favorite. The family friendly atmosphere makes it ideal for parents and children!"
- Kelley
"Amazing, amazing food and the staff are the best" - Melissa
"Milk is for babies. When you grow up, you have to drink beer." - Arnold Schwarzenegger
Behind the Scenes Taphouse is THE Gathering place of Littleton. HIGHLY Recommend."
- Brean S